Blog #5 of 5 Ways to Mix Up Your Wardrobe
Have any of you made the mistake of attending a family gathering wearing ripped jeans? If you've ever made this unfortunate fashion error, you'll be uncomfortably familiar with the dismay of your family's older generations, who openly inquire about your well-being and financial stability. I mean, your jeans are ripped! Are you okay?? Did you fall on the way here? Why haven't you bought new ones?!
Little do they know how meticulous about clothing care you really are. After all, it takes work to keep your ripped denim looking the ideal amount of disheveled. My genuine apologies for indulging such a first world problem, but isn't it a little frustrating when your distressed jeans rip too much? We've all experienced that fateful moment, when stepping into a pant leg or even a simple bend of the knee rips an existing hole even wider, destroying the perfect symmetry of your denim gashes. What about when you take your jeans out of the wash to find that the threads have matted beyond repair, resulting in an unkempt, stringy mess? To this end, I've been known on more than one occasion to actually comb the bare threads my distressed jeans post-wash.
Or maybe you achieved a rip in a place you just don't want one... shout out to the infamous crotch-area hole here, with special mention for the under butt cheek rip and the tear that inevitably forms after consistently using belt-loops as leverage to hoist skinnies over your thighs.
After years of experiencing the same coming-of-age moment with nearly every pair of my well-worn jeans (*loud ripping sound* "OHMYGAHD"), I've learned to take it not as an omen, but as an invitation. When my jeans rip too much, I see an opportunity to break out the scissors and go a little crazy. Ripped too much? How about not ripped enough? How far can I go before my jeans literally disintegrate into an unrecognizable pile of indigo on the ground?
Here are three sources of ripped jean inspiration I will be referencing the next time a DIY distressed denim project presents itself, all via some of my favourite Vancouver-based bloggers and brands. I hope they inspire you to pick up the scissors, access your inner designer, and create a pair of bottoms that will cause a stir at your next family reunion. Personally, I will be attempting option #1 when the tears in the jeans pictured above begin to absorb one another like a giant denim black hole.
Before you embark on your DIY distressed jeans journey, here are a few articles you can read to help you tear up your jeans with consummate skill. This article gives a great overview of the tools and methods required to achieve the perfect denim tear, this article explains how to achieve a raw hem, and this article shows how to create the frayed hem of your dreams. Happy DIYing friends!
Wearing
Sweater: H&M similar here
Jeans: Pull & Bear
DIY Ripped Jeans Inspiration
Are these jeans in the midst of an existential crisis, because they seem to ask, what is the point of my existence? They're evidently unsuitable for winter, unless leg frostbite is your jam, but there's a bit too much below-the-knee coverage for the sweltering heat of summer. They are basically half a pant, which is shorts, so why not just wear shorts? Because fashion guys. #lookitup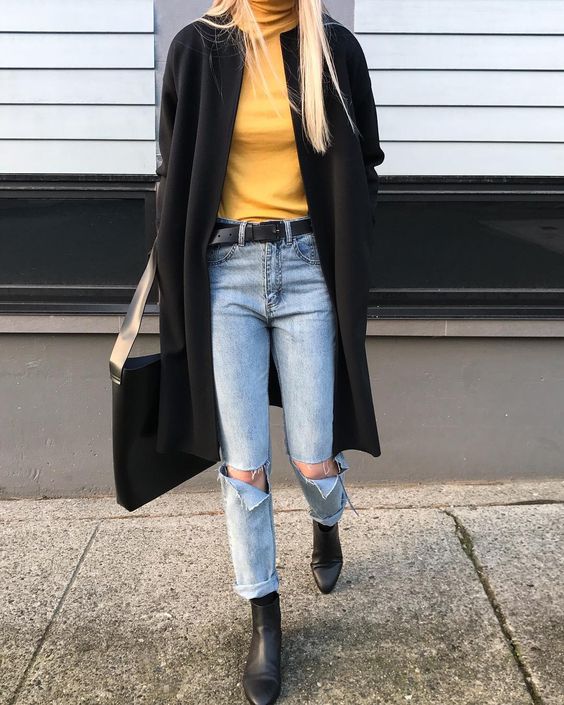 An inspired, geometric take on distressed jeans via Oak + Fort. I was beyond stoked when I first saw these now sold-out Oak + Fort ripped jeans because they are the first pair I've ever encountered that has provided a departure from the typically-circular jean hole. Why not take scissors to your disintegrating pants in a way that is a little different and utterly Kandinsky-esque? Abstract art is the window to the soul, and triangular jean holes are the windows to the knees, so work it girl!
What can I say, raw hems are chic as heck! After enough washes, they will likely fray so much that you'll end up with these very cute jeans without even trying, and after even more washes, they'll eventually look like these jeans, which I have no comment about.